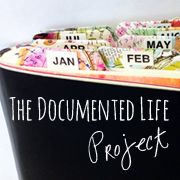 Over the past year or so (mostly since I started working away from home at  a JOB), I have not taken the time I once did to work on my creative projects.  Since I LOVE my job, apparently I need to figure out how to make to two parts of my life get along with each other. One way that I thought might be helpful is to get involved in a couple of creative challenges so that I have some things already pre-determined for me . . . . topics or themes, and accountability.
Typically I wouldn't be interested in having someone else tell me what to create – well, that is still true, but when you find creative challenges that don't actually tell you WHAT to do, but give you some gentle nudges towards SOMETHING, I guess that's a whole lot better than what I've been doing, which is NOTHING.
Last winter I was working on a couple of hand-crafted and designed art journals for two of our grand-daughters, and that was great fun . . . . but once they were finished (is something like that EVER actually "finished"?) – or at least once I sent them off to the girls, I just had a difficult time getting started on something else. Probably because in my reverse-ADHD mode I thought of about a thousand things I COULD do, but didn't have the time or energy to do any of them, so I just did NOTHING.
This weekend, since we are snowed in anyway, I worked on Annie's scrapbook for a while and finished up about six pages. I've got the pictures ready to go to finish up about 4 – 6 more pages, and then I'll have to print another batch of photos. But after they've been stored on the computer for several years, I guess it is time to get them into that scrapbook!
And then the creative challenges that I found online: one is called Creative Every Day and it has been going since 2008. I've participated several times since 2009 when I first discovered the host blog, but last year . . . . again, NOTHING! So I signed up again this year, and even though very few of the participants will actually be able to create and post pictures of their projects EVERY day, it is still a good way to stay focused and be reminded to CREATE!
The other one that I just discovered is called The Documented Life Project, which offers weekly themes for designing and creating an art journal / day timer / calendar / planner using any variety of creative / artistic materials. I think I can do both together, so that my Creative Every Day project will also be part of my art journal for The Documented Life Project.
By combining all the little artsy things that I like to doodle around with and the practical reality of my every day life, it might be fun to see how they come together.
And that will be one baby step towards making my academic / professional life and my creative / artsy life hold hands. We'll see if they can get along!
If you would be interested in participating in either one of these creative challenges, please visit the blogs (linked below) and jump right in. There's just something about expressing the stories and ideas that are inside each one of us, because we all have stories to tell . . . . how will you tell yours in 2014?
 CREATIVE EVERY DAY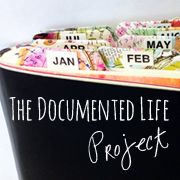 THE DOCUMENTED LIFE PROJECT