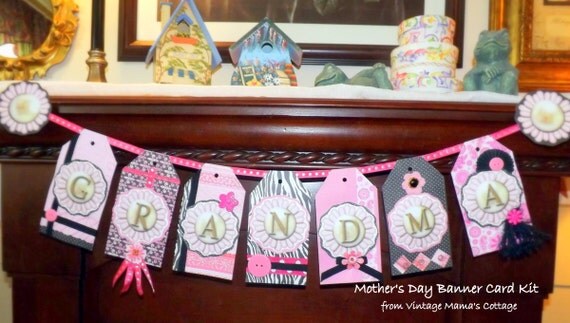 Since we made our first Mother's Day Banner Card last year for our Grandma, we've been talking about other banner cards that we could make. The list is endless! We made a new GRANDMA banner card, a MOTHER banner card, and a FATHER banner card . . . .  and now we are on to designing and creating a few more!
For Father's Day we will be creating a GRANDPA banner card, and then, just because it is SUMMER we will be making several banner cards in summery themes: flip-blops, sunglasses, umbrellas, shells, fish, and whatever else we can think of to celebrate summer. How about banner cards for birthdays, graduation, anniversaries, a new baby, a WELCOME banner card . . . . and probably (since we are already planning a few SUMMER banner cards) we'll make plans for AUTUMN, WINTER, and SPRING banner cards.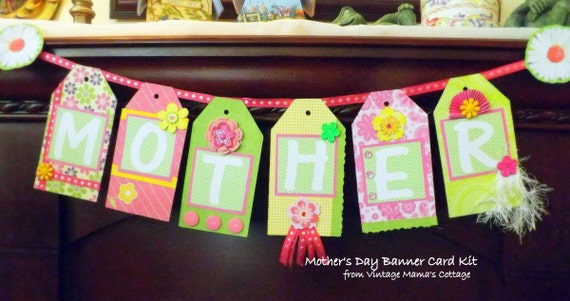 Fourth of July, Christmas, Valentine's Day . . . . there's no end to the themes that will inspire us as we create even MORE banner cards. But here's the fun part: since we've received requests to turn our banner cards into KITS so that you can make your very own banner card for Mother's Day or Father's Day or any other day that you want to CELEBRATE, you can now purchase banner card KITS from the mamas*little*treasures Etsy shop!
So here's what's inspiring me today: Check out the MOTHER and GRANDMA banner card KITS at mamas*litttle*treasures and make your own banner card. And then I'm going to be busy as a little bee getting the kits ready for the Father's Day Banner Card KITS. Give it a try, it's great fun!
Please join us this week for INSPIRE ME MONDAY at Create with Joy and tell us what is inspiring you today! Hope to see you there    ;o)